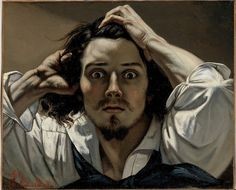 Self-portrait in Despair, Courbet, 1844-45
Jeanette Winterson spoke for many authors at the recent Australian Book Industry Awards when she said:
What we're really protecting is the life of the mind; the creative core of what we are. If you attack creativity what you're saying is that it doesn't matter that we're human beings, because very human being ever born across this planet, across time, is part of the creative continuum.
We're protecting something which is so valuable. This is more than an industry. This is the heart of humanity ... We need to protect this ecosystem.
Jeanette Winterson,
Australian Book Industry Awards, 2016

At the Australian Book Industry Awards last Thursday (19 May), Jeanette Winterston made an impassioned plea on the behalf of Australian writers and readers and everyone involved in the Australian book industry. She urged us to fight the Productivity Commissions Draft Report on Intellectual Property 'with every breath.'